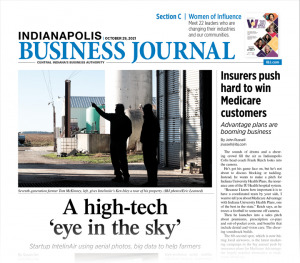 OCT. 29-NOV. 4, 2021
Insurers in Indiana, like in much of the nation, are pushing hard to boost membership in thir Medicare Advantage plans, one of the fastest-growing segments in the industry. John Russell explains how they're scrambling to sign up seniors before the Dec. 7 enrollment deadline. Also in this week's issue, Emily Ketterer examines the pressure building in the Indiana Statehouse for legalizing marijuana. And Leslie Bonilla Muñiz details plans for the first Black-led Community Development Financial Institution in Indianapolis.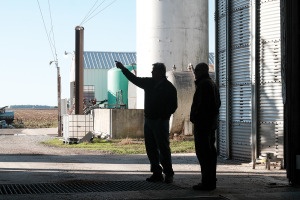 Indianapolis-based IntelinAir Inc. sees a big opportunity in the use of artificial intelligence and machine learning to help farmers keep tabs on their crops.
Read More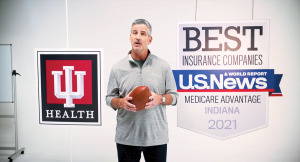 In Indiana last year, dozens of insurers across the state rolled out plans hoping to get a sizable piece of the fast-growing market.
Read More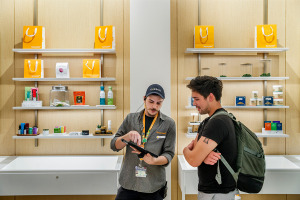 Eyes will once again be on Indiana to see if lawmakers will loosen the state's marijuana laws as neighboring states continue to cash in on legal weed.
Read More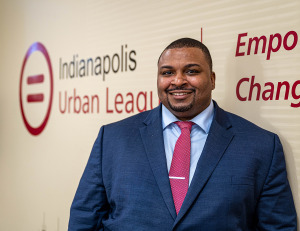 Work is underway to determine what kind of support services Black-owned businesses will need to complement the loan fund.
Read More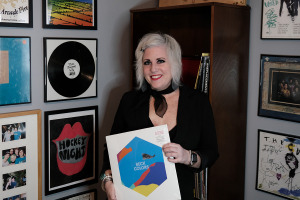 Since August, she's hosted a daily radio show at Internet-based station Amazing Radio. The show, which airs at noon on weekdays, features indie pop, with a focus on Los Angeles- and West Coast-based artists.
Read More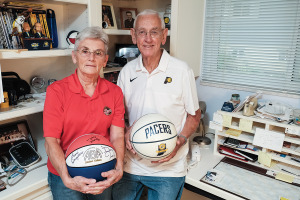 He had filled in the dates for home games on his calendar and had filed his proof of vaccination but was told two weeks ago his services were no longer required.
Read More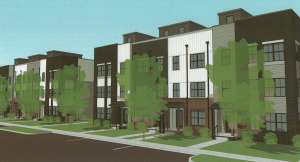 Local developer Onyx+East is seeking city approval for the project at 2060 Yandes St., which is expected to feature nearly 50 townhouses and four single-family units.
Read More
The Indianapolis-based insurer, which left the program in 2018 after racking up huge losses, is jumping back in under a partnership with three hospital systems covering 45 of Indiana's 92 counties.
Read More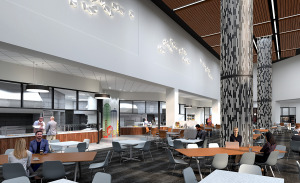 The 18,267-square-foot restaurant, which is open to both OneAmerica Tower tenants and the outside public, has been vacant since Sahm's Restaurant Group closed its cafeteria there last fall.
Read More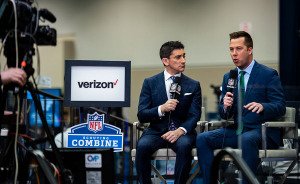 The NFL said the location of the 2023 combine will be determined through a bidding process involving Indianapolis, Dallas and Los Angeles.
Read More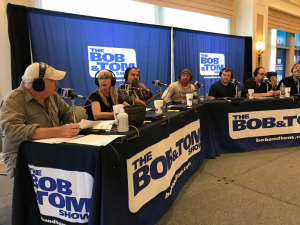 The agreement applies to six stations that have aired the made-in-Indianapolis radio show for at least 20 years.
Read More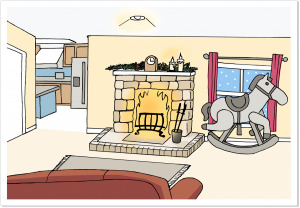 The market has tilted severely toward sellers. But if you want to get the best price and the quickest deal, there are still a lot of things you need to do to make an off-season listing stand out.
Read More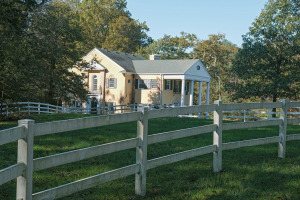 The house is on the site of a former river mill established in 1846. The lumber mill was converted into a 5,000-square-foot house in 1950, with four bedrooms, 3-1/2 baths and stunning views of the Flat Rock River.
Read More
There's work to do for downtown to be in tiptop shape for the college football championship—alleys to clean, construction to finish, improvements to make in sidewalks and other infrastructure.
Read More
Even unpopular, offensive speech, or speech that offends our morality, must be protected in order to advance knowledge and learning. Civil
Read More
Receiving home-based care is not only a safe option, but it's also what patients want.
Read More
If the federal government were unable to pay its bills, what could ensue would be nothing less than a financial catastrophe and for no other reason than perceived political gain.
Read More
There isn't a one-size-fits-all secret recipe to fill the talent pipeline, but here are a few ideas we can offer for a springboard in customizing your own.
Read More
COVID revealed the fragility of the global supply chain; when it's broken, it's all over the headlines. When you can't get what you want, it's all you think about.
Read More
It's been some 40 years since the United States has experienced significant inflation. However, the phenomenon of an accelerated rise in the general price level is rearing its ugly head.
Read More
Set between interstates 65 and 70 in the city's highway "spaghetti bowl," this diamond-shaped pocket park on the Indianapolis Cultural Trail was an oasis of rest and relaxation for travelers on the trail.
Read More
Let's call bad driving what it is: dumb driving.
Read More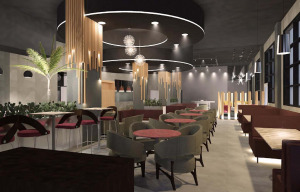 A Fishers homebuilder intends to remodel the former Claddagh Irish Pub & Restaurant on South Meridian Street and open a business named Hovito.
Read More
Indianapolis-based Langham Logistics said the facility will be dedicated to pharmaceutical, vaccine and biologics manufacturing and distribution clients.
Read More
Indianapolis-based developer Midland Atlantic Properties recently acquired a high-profile piece of property in a bustling retail corridor for the project, to be dubbed The Greenfield Market.
Read More
As executive director of the Indiana Office of Technology, Anushree M. Bag is executive sponsor of an initiative to conduct a cybersecurity maturity assessment of local health departments across all 92 counties.
Read More
Sally Bindley founded School on Wheels 20 years ago to provide one-on-one tutoring and educational advocacy for school-age children impacted by homelessness.
Read More
In her second term as Indiana's 52nd lieutenant governor, Suzanne Crouch oversees four departments and serves as president of the Indiana Senate, along with chairing several commissions.
Read More
Akilah White Darden founded The Darden Group, an executive construction management and training firm, to address the shortage of women-owned and minority-owned businesses used in city contracting.
Read More
Angela B. Freeman has worked as an attorney at Barnes & Thornburg since May 2013 and became a partner in January.
Read More
As director of Ball State University's athletic department, Beth Goetz is responsible for leading the daily operations of a department that includes 19 NCAA Division I teams.
Read More
Elevate Ventures Chief Investment Officer Ting Gootee has been with the venture capital firm since its inception in 2011.
Read More
Taja Graham has been with Emmis Communications for 22 years and was promoted earlier this year to market president.
Read More
Kelli Jones co-founded Sixty8 Capital, the first Indiana-based venture capital firm dedicated to investing in startups led by Black, Latino, female and LGBTQ founders.
Read More
Donna Kreps started with F.C. Tucker in 1993 and later became the first female executive of the company.
Read More
Dr. Indy Lane became the first medical director for the Fishers Health Department, which was created in April 2020 in response to the pandemic.
Read More
Kelli Lawrence has been CEO of home builder Onyx + East for two years and, during that time, the company's product offerings, development and market reach have grown tremendously.
Read More
Amie Martens went from practicing law on a Friday to running a business on a Monday after her mother died, leaving her to take over Laura Kopetsky Tri-Ax, an Indianapolis-based dump-truck company.
Read More
Christine McDonnell co-founded Codelicious, an ed-tech startup that offers customizable computer science curriculums to schools, in 2016. It now serves more than 100 schools in 23 states.
Read More
Laurie Burns McRobbie served as first lady of Indiana University until June, when her husband, Michael McRobbie, retired from his post as president.
Read More
Early in her career, Carolyn Mosby worked in minority business development before taking a break to work in communications. When a position opened up with Mid-States Minority Supplier Development Council, she applied. And the "rest is history."
Read More
Jessica Nickloy has been CEO of Etica Group, a construction engineering firm her father and his partners started in 2005, since 2008.
Read More
Jennifer Pace Robinson has worked at the Children's Museum of Indianapolis for 29 years in a variety of positions. Now, she's leading the organization.
Read More
Ronda Shrewsbury founded RealAmerica 26 years ago to develop affordable housing after she grew up "extremely poor."
Read More
Frances Lee Watson is the director of the Wrongful Conviction Clinic at the Indiana University McKinney School of Law. Through the clinic, she's helped represent five exonorees.
Read More
Maureen Weber has served as president and CEO of Early Learning Indiana for three years, including through the COVID-19 pandemic when the organization helped launch a $25 million fund for early-learning providers.
Read More
Dr. Amanda Wright served as interim dean of the Marian University College of Osteopathic Medicine in 2020 and 2021 before being named dean in June. She helped lead the medical school through the COVID-19 pandemic.
Read More