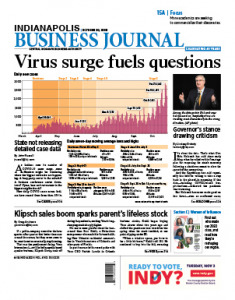 OCT. 30-NOV. 5, 2020
Gov. Eric Holcomb has said repeatedly that he'd be willing to reverse course on the state's reopening plan if the data indicated that the pandemic was worsening. Lindsey Erdody explores why Holcomb hasn't taken a step back now that confirmed cases, hospitalizations, deaths and positivity rates have surged. And John Russell reveals how much fine-grained and site-specific data the state collects on the spread of COVID-19 that it declines to share with the public. Also in this week's issue, IPS Superintendent Aleesia Johnson discusses the reopening of the state's largest public school system and what administrators have learned so far.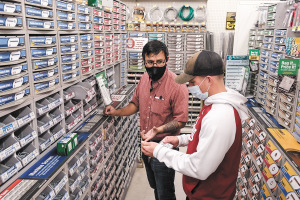 Other than tracking schools and long-term-care facilities, the state doesn't post any identifying data on a website or dashboard where people can identify COVID hot spots and track their spread.
Read More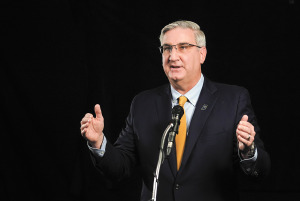 The Republican has said repeatedly that he'd be willing to take a step back in the phased-in reopening if key data indicated the pandemic was worsening. But he has never made good on that threat.
Read More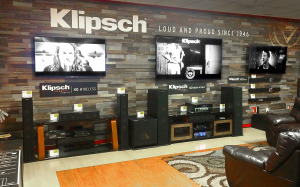 Fueled by the strong performance of Klipsch and the company's other premium audio lines—all of which are overseen from Indianapolis by longtime Klipsch CEO Paul Jacobs—Voxx shares have risen more than 200% this year.
Read More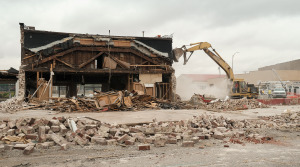 Lebanon's campaign for new, mixed-use development downtown is off to a slow start.
Read More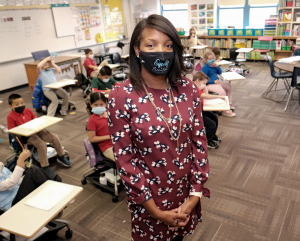 IBJ reporter Samm Quinn talked with Superintendent Aleesia Johnson about how returning has gone so far and other impacts COVID-19 has had on the state's largest public school system.
Read More
Jamal Smith applies lessons from his own hardscrabble childhood to all his jobs. Now director of strategic partnerships at Indiana University Health, he designs and runs programs to help communities overcome social impediments to good health.
Read More
The program for low-income Hoosiers is funded by federal Medicaid dollars, but Indiana Attorney General Curtis Hill Jr. is backing a multistate lawsuit that would eliminate the Affordable Care Act. Without federal funding, Indiana likely could not afford to continue HIP.
Read More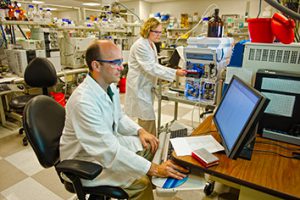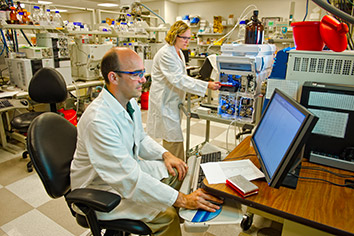 Eli Lilly and Co. said Wednesday that the U.S. government will accept 300,000 vials of the drug, called bamlanivimab, if the Food and Drug Administration grants emergency authorization for its use.
Read More
The apprenticeship will enable high school students to attain soft skills, technical skills and relevant work experience in growing, high-demand industries.
Read More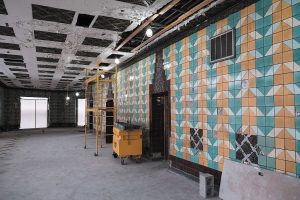 Work on the ritzy Mass Ave hotel has continued throughout the pandemic, despite delays to other projects around the city. The Bottleworks campus food hall is slated to open in January.
Read More
Zesco Restaurant Supply needs to replace a nearby warehouse that will be demolished as part of IU Health's massive expansion of its Methodist Hospital campus in coming years.
Read More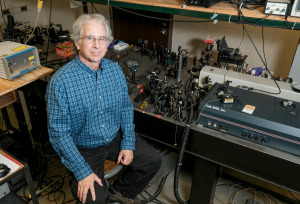 More and more of the work done by university researchers is being spun off into companies and commercial applications that they or the universities own or are a part of.
Read More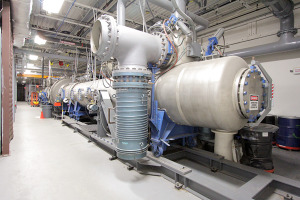 Once the tunnel is installed, Purdue will be only the second U.S. university to offer such hypersonics test capability.
Read More
The grant will support NASA student internships and fellowships, student STEM experiences, faculty STEM projects and public STEM engagement throughout Indiana through 2024.
Read More
The model maps and highlights the brain structures—including cells, groups of cells or specific regions—and "the ongoing, overlapping series of 'conversations' between those structures," the university said.
Read More
Learn what you can before you cast your ballot—and don't stop with the federal races. The future of our communities and our state depends on it.
Read More
It will take money and a big helping of leadership to win Indy's battle with food insecurity.
Read More
As we continue to work together to enable children and adults to return safely to school and work, we must prioritize addressing the underlying factors that have resulted in the racial disparities exposed by the pandemic.
Read More
An "all of the above" approach should include investments not only in innovative renewable technologies, such as wind and solar, but also in dependable low-cost natural gas, to ensure adequate energy is available when each and every customer goes to turn on the lights.
Read More
Truly making diversity and inclusion part of your organizational heartbeat is like performing cultural open-heart surgery: It's serious and the road to recovery is long, but in the end, your organization will be stronger and healthier than before.
Read More
The most complicating factor is that we don't know how much we'll need because we don't know when we'll die.
Read More
While average inflation targeting has some theoretical advantages, the move is easily seen as nothing more than a fig leaf for the Fed to increase its own discretion.
Read More
The recently enacted CDC eviction moratorium gives renters a false sense of protection.
Read More
Bell is proud of the flexibility and access WGU programs provide and the fact that it now has alumni living and working in all 92 Indiana counties.
Read More
Bravo joined the faculty at IU McKinney in 2004 and became dean this year.
Read More
As president of a talent management consultancy, Butcher's career is built around mentoring others.
Read More
Campodonico-Barr wears many hats as president and CEO of Girls Inc., which she is committed to making the "premier girl-serving organization in Indianapolis."
Read More
Carrasco is a policy and legal adviser to the governor and his staff and to a variety of other state agencies on a wide range of issues.
Read More
Casto manages a global team of more than 130 that she created in 2017 when she was charged with merging the company's marketing and communications functions.
Read More
Christensen has been a critical player in the formation and adoption of the mentoring and sponsorship program for female attorneys at Dentons Bingham Greenebaum and was instrumental in forming the firm's Diverse Scholars Program focused on law students.
Read More
Dodson is most proud of legislation passed in the early 2000s to help people diagnosed with autism and genetic metabolic diseases and to expand home and community services for The Arc's clientele.
Read More
Elizabeth Elkas leads a team of professionals at Riley Children's Foundation who raise philanthropic gifts in support of Riley Hospital for Children and its affiliated research.
Read More
As market manager for community-development banking, Patricia Gamble-Moore leads PNC's lending and investing in local underserved markets, helping to improve quality of life in low- and moderate-income neighborhoods.
Read More
Candy Gee is responsible for advancing the Roche Diagnostics' focus on diverse talent acquisition and development, building external partnerships, developing sustainable diversity and inclusion strategies and processes, and employee education.
Read More
Kathy Martin Harrison's company, Ed Martin Automotive Group, was the largest woman-owned business in Indianapolis last year, according to IBJ research. It owns nine car dealerships representing 12 manufacturers in Indianapolis, Carmel, Fishers, Noblesville and Anderson.
Read More
Pamela Jo Hynes is responsible for daily operations at Sharpen, which operates a cloud-based, customer service platform and made the 2020 Inc. 5000 list of fastest-growing private companies in America.
Read More
Janney oversees the operations of IU Health, the state's largest health care system, with 16 hospitals, and its second-largest private employer, with more than 34,000 team members and more than 2,500 physicians. And this year, she took on an unexpected but important role: incident commander of the COVID-19 emergency response team for IU Health.
Read More
Donna Kelsey, a 26-year veteran of the U.S. Navy and U.S. Naval Reserve, took over at American Senior Communities amid a crisis at the company. She reorganized the company, prioritizing the care of the residents and adding controls to guard against the fraud that had felled her predecessor.
Read More
Sarena Lin, who joined Elanco Animal Health three years ago, leads the company's ongoing separation from former parent Eli Lilly and Co. and is simultaneously leading the integration into the company of Bayer Animal Health, which Elanco acquired this year for $7.6 billion.
Read More
Patricia A. Martin is head of BioCrossroads, the group that promotes Indiana's life sciences industry, a pillar of the state's economy,
Read More
Sandy McCarthy runs OneAmerica's retirement services business, which serves more than 1 million people saving for retirement and is responsible for just more than $60 billion in assets.
Read More
Mel Raines leads the team responsible for managing Bankers Life Fieldhouse and the adjacent St. Vincent Center/Indiana Pacers Training Center.
Read More
At Faegre Drinker, Marilee J. Springer serves as outside general counsel to charitable entities that provide critical services to families and their local communities.
Read More
LaTonya Turner is the first African American woman to serve as a dean at Marian University.
Read More
As the United Way's chief impact officer, Sara VanSlambrook works to help individuals and families find stability in crisis and gain financial and social mobility.
Read More
Virginia Booth Womack is one of the nation's leading advocates for increased participation of underrepresented students in science, technology, engineering and mathematics education.
Read More
George Washington had wicket, Ford excelled on the gridiron and Reagan was a swimmer. White House occupants have a history of playing and watching—or trying to influence—the sports Americans love.
Read More