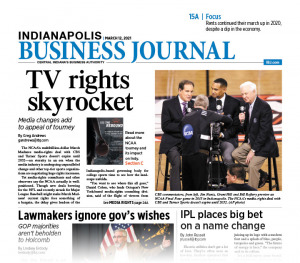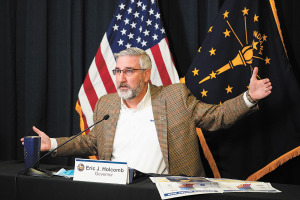 Gov. Eric Holcomb is not having much luck getting what he wants from the General Assembly this year, even though both chambers are overwhelmingly dominated by his Republican Party.
Read More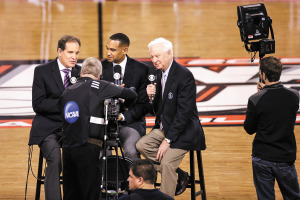 The media landscape is in the throes of dramatic change that creates uncertainty but also adds to the value of events like the NCAA Men's Basketball Tournament that attract huge live audiences.
Read More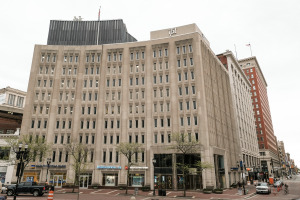 One of Indianapolis' oldest companies, Indianapolis Power & Light Co., is testing whether putting on a whole new look will help it get more recognition and affection than utilities' normally see.
Read More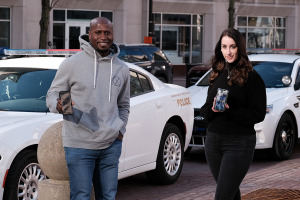 The digital platform makes it easier for residents to report and track interactions with police, and for the police to track, monitor and analyze interactions with residents.
Read More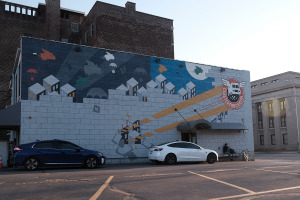 The NCAA, Indiana Sports Corp. and Visit Indy are developing a program to help match teams with restaurants that are prepared to deliver.
Read More
Sampson Levingston believes we discover who we are through discovering where we are. That's why he started offering Through2Eyes Walk and Talk tours in June—to give people an opportunity to learn more about the history of Indianapolis communities.
Read More
Indiana lawmakers are considering legislation that would freeze property tax assessments for four years when a property owner wins an appeal.
Read More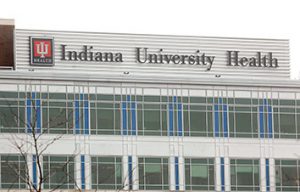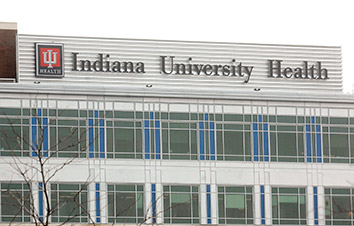 A prominent Indianapolis surgeon is suing Indiana University and Indiana University Health, claiming they broke his contract and interfered with his ability to get another job.
Read More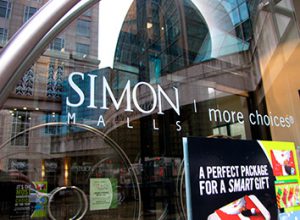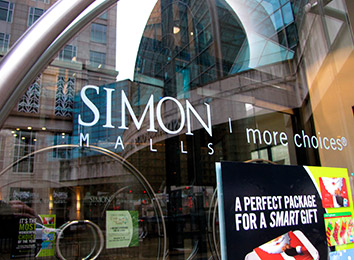 New York City-based RCS said the agreement Simon Property Group made with Premium Apparel LLC will keep all 235 stores in Simon malls open.
Read More
Visiting her offspring in school, Bacon encountered children who were growing up in difficult circumstances, and she felt a calling to dedicate herself to improving the conditions of their lives.
Read More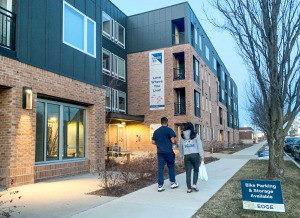 Landlords had been worried not just that tenants wouldn't be able to stomach rent increases in 2020 but that they might not be able to pay their rents at all as the pandemic wore on. But collections remained strong,
Read More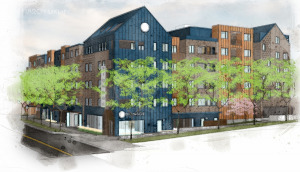 Jeremy Stephenson, who started 1820 Ventures a year ago after leaving Indianapolis-based apartment developer Milhaus, intends to develop the 103-unit project near the middle of the Elevator Hill campus.
Read More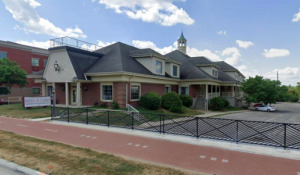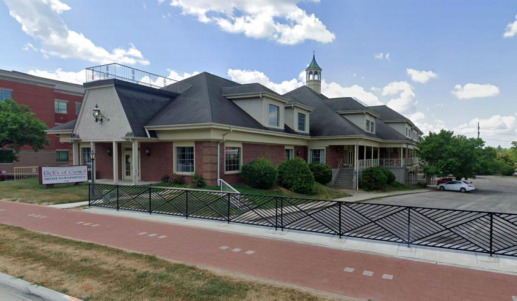 Turner Woodard, the former majority owner of the Stutz Business and Arts Center in downtown Indianapolis, has purchased the former Rich's Home Furnishings showroom in Carmel to redevelop as the first in a series of three new projects in the northern suburb.
Read More
Indiana ranks eighth among states in terms of its percentage of vaccine supply administered to patients, according to data tracked by the Centers for Disease Control and Prevention and reported by Becker's Hospital Review.
Read More
We were so fortunate not to be hit financially by the pandemic. Now, there's nothing I want to do more than go spend some of that cash in the restaurants and other businesses that make Indianapolis a place I love living.
Read More
To support the city's renters, half of whom are housing cost-burdened and vulnerable to exploitation by bad landlords, Indianapolis leaders should convene their networks and pool their resources in a number of ways.
Read More
Indiana's wetlands statute has worked well for 18 years. But now, under pressure from the Indiana Builders Association, some legislators want to remove isolated wetlands protection from state law.
Read More
What became clear was that most people think about the concept of productivity at the individual level.
Read More
Protect yourself by always being skeptical of financial advice, particularly the version posted online.
Read More
Freeing up and encouraging trade is crucial for spurring the economy, which is still recovering from the worldwide pandemic.
Read More
The Indiana legislation requires high school seniors to complete the Free Application for Federal Student Aid—referred to as FAFSA—or have a parent, principal or counselor waive that requirement.
Read More
A typical PRI Show brings upwards of 67,000 people to Indianapolis and generates an economic impact of $65 million, making it one of the city's largest annual events.
Read More
The Manchester, New Hampshire-based college said Kenzie will operate as a not-for-profit division of the private university, offering online, accelerated training programs.
Read More
The federal government is proposing to downgrade 144 cities in all from the metropolitan statistical area designation, which some areas fear will affect federal funding and their ability to lure businesses and talent.
Read More
Attorneys for the advocacy group Indiana Vote By Mail argue in the petition filed Friday that the state law allowing no-excuse mail balloting by those ages 65 and older infringes on the constitutional rights of those younger.
Read More
The New York-based firm plans to lease 10,655 square feet on the 15th floor of the 8888 Keystone Crossing office building in Indianapolis for its local operations.
Read More
If a widespread emergency continues for long enough, Hoosiers deserve to have all branches of their state government—especially the Legislature—involved in making decisions that affect them.
Read More
Hoosier lives are counting on leadership, not political gamesmanship.
Read More
The question we have to answer is whether continuing to invest in a traditional fixed-route system with full-size buses is the way of the future, especially as new technologies come online.
Read More
The economic impact of the physicians created by these programs is expected to reach $332 million by 2025.
Read More
The livelihoods of thousands and the quality of life of millions will be affected by how we conduct ourselves as hosts.
Read More
Republicans can continue to use their energy to restrict voter access if they want, but all that will do is create a much angrier and determined electorate.
Read More
Judged by the criterion of 'one person, one vote,' the U.S. Senate is the most unrepresentative legislative body in the democratic world.
Read More
Republicans need not wait until the midterm elections … to champion and enact policies that improve the lives of the voters that elected them.
Read More
Muslim Americans confront this code every time we try to build a house of worship; national and local opposition always comes roaring forward.
Read More
As human beings, we gravitate to what we know. When we encounter the unknown, our defenses unconsciously arise.
Read More
Policymakers must improve child care infrastructure and implement family-friendly policies.
Read More
If women do speak, they often are interrupted.
Read More
Promoting and attracting 'young talent' is good for organizations to prevent them from becoming stagnant
Read More
A future in which automation and AI impact every sector of our economy is just a few short years away.
Read More
Raising the minimum wage, particularly when the nation is still recovering from the pandemic, would not do anything but harm the economy.
Read More
The wages that I have long considered to be a pittance due a 17-year-old living at home were actually higher than the current minimum wage.
Read More
Spring in Indianapolis is always a glorious time. Except maybe last spring.
Read More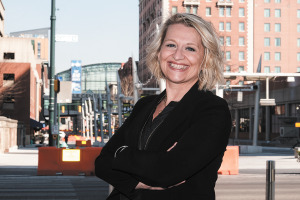 Over the past few weeks, Jennifer Pope Baker has spent pretty much every waking moment overseeing Indy's effort to host this year's NCAA Division I Men's Basketball Tournament.
Read More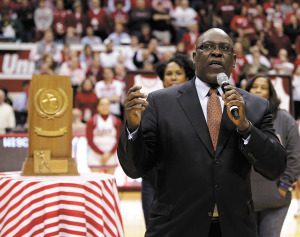 When you talk about that body of experience [for Indianapolis], it makes this doable. It gives you an experience base that you can tap into, to pull things together.
Read More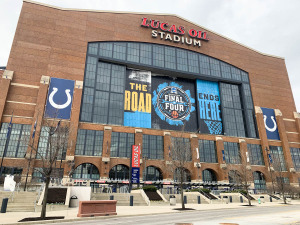 Construction of a convention center, a basketball arena, a football stadium, to start. Countless audacious moves by a long line of political and civic leaders put the city in the position for an historic achievement.
Read More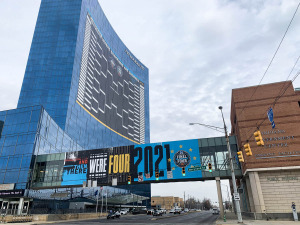 Visit Indy plans to bring in a small group of "key decision-makers" from across the United States throughout the tournament, with the goal of letting major event executives safely see Indianapolis' capabilities.
Read More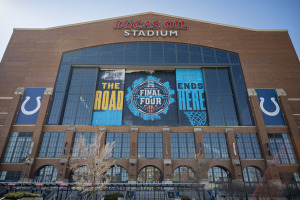 IBJ invited a group of community leaders who have been involved in sports and economic development throughout the past 40 years to talk about the city's sports strategy, how it developed and why it remains important. The panel includes Mark Miles, Allison Melangton, Susan Williams, John Thompson and Ryan Vaughn.
Read More
As fellow Hoosiers, we at the NCAA are so proud that the crowning achievement of college basketball will take place exclusively in a state with a rich and storied basketball tradition—a state we call home as NCAA employees.
Read More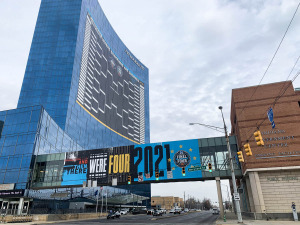 Indianapolis-based Sport Graphics is best known for its record-setting NCAA Final Four creations and the massive banners it creates to festoon the exteriors and interiors of everything from the Indianapolis Motor Speedway to Lucas Oil Stadium.
Read More
It's taken thousands of Hoosier residents willing to put community first in order to take Indy's success to the next level.
Read More
It has been a year of uncertainty and pain. And while this basketball tournament brings a figurative new spring to Indiana, we also need to acknowledge the hard months that brought us here.
Read More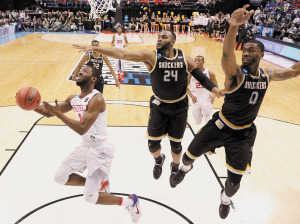 The entire March-Madness-speaking world is now focused on Indianapolis, with 68 teams flying and busing this way.
Read More