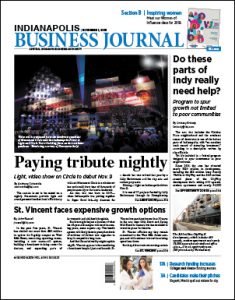 NOV. 1-7, 2019
In this week's issue, Anthony Schoettle has the backstory behind Shining a Light on Indianapolis, a multimillion-dollar light, sound and video show designed for Monument Circle that will play nightly beginning Nov. 9. Tourism officials think it will bring tens of thousands of people to the heart of the city annually. John Russell explores the options for St. Vincent and its flagship campus on West 86th Street. Keeping it competitive long-term could take hundreds of millions of dollars, so might it be better off building a new campus to order? And we have one last look at the positions of Indianapolis mayoral candidates Joe Hogsett and Jim Merritt before Election Day.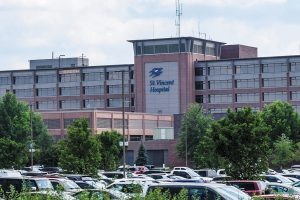 The hospital system's 45-year-old campus will likely need hundreds of millions of dollars in upgrades in coming years to keep it competitive long term.
Read More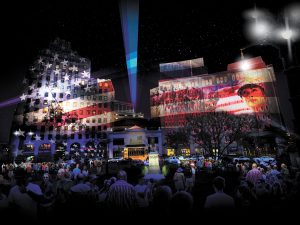 The curtain is set to be raised on a nightly five-minute patriotic light and sound presentation that local officials say will cast Monument Circle in a whole new hue and could draw tens of thousands of people annually to the iconic landmark.
Read More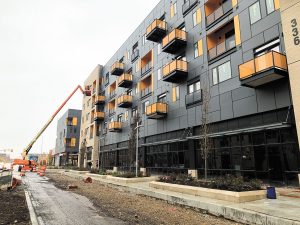 The area that includes the Fletcher Place neighborhood and the southeast corner of downtown is one of the hottest parts of Indianapolis, yet it's included in a federal program designed to spur investments in poor neighborhoods.
Read More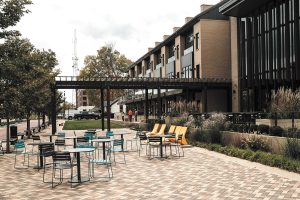 City officials have long sought to diversify housing options by introducing for-sale condominiums and town houses into a market saturated by hundreds of high-end apartments.
Read More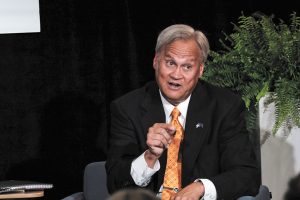 Republican state Sen. Jim Merritt says his campaign for mayor has taken him to places and introduced him to people in the city he never knew before—an experience he wants to continue if he's elected.
Talking with people, he said, is key to finding solutions to difficult problems.
Read More
Democratic Mayor Joe Hogsett says if he's elected to serve a second term, he hopes "that prosperity can be shared by more people in Marion County than has been the case in the past."
Read More
Sports executive Allison Melangton had never led a capital campaign before Wheeler Mission asked her to chair its $12 million fundraising effort.
Read More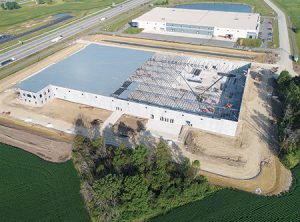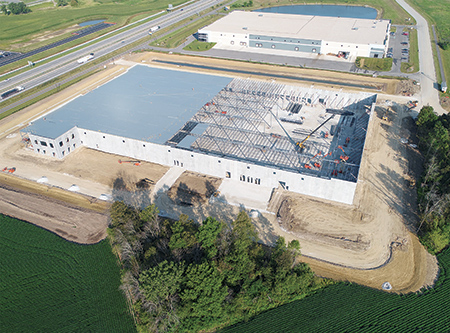 The red-hot Indianapolis industrial real estate sector is nearing all-time records in vacancy, construction and absorption, newly-released market reports obtained by IBJ show.
Read More
Potential partners include one of the city's earliest charter networks, a campus with a mindfulness focus, and a school for teens who have struggled with drug and alcohol addiction.
Read More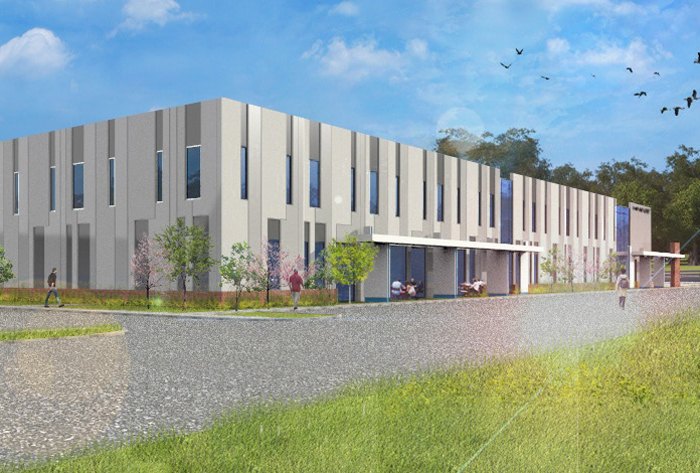 Abbott Laboratories announced plans Monday night to build a 120,000-square-foot facility in the NorthPoint Industrial Park along U.S. 31 where it will manufacture a heart valve repair device. 
Read More
In addition to co-founding and leading national women's clothing retailer Paul Harris Stores, Gerald Paul was an active philanthropist in local arts, education and Jewish causes.
Read More
Republican state Sen. Jim Merritt, Democratic incumbent Joe Hogsett and Libertarian Douglas McNaughton specifically addressed the eminent domain issue at Monday night's Indianapolis mayoral debate.
Read More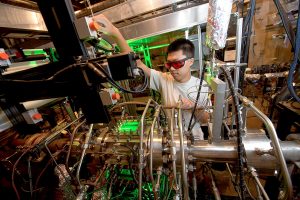 University research budgets and federal funding levels are seen as increasingly important drivers of economic development as they give rise to more licensed technology and startup companies.
Read More
Patient data is increasingly in the hands of for-profit industries. Insurance firms and other for-profit companies have been collecting patient data that yields important information that could be used to shape medical care and health policy.
Read More
All four projects are worthy of funding. But what makes them special as a group is that they will serve such a diverse group of people—tech workers and startups, ex-offenders, homeless families and the African American community—while enhancing all of Indianapolis.
Read More
The newly commissioned ship is the fourth to bear the city's name.
Read More
The death of P.E. MacAllister is an occasion for reflection—about a life well-lived, certainly, but also about the nature of civic virtue, and the changes in society and the economy that have made the civic commitment he exemplified so much rarer.
Read More
Education, conservation and preparation are vital for protecting the quality and availability of water in Indiana.
Read More
Great leadership isn't about perfection. It's about self-awareness. And we know objective human data is the gateway to developing that awareness—the No. 1 most critical competency among leaders.
Read More
Shame prevents people—really smart and capable people—from bringing their challenges forward to the solutions altar.
Read More
On Oct. 26, the Treasury Department announced the deficit for fiscal 2019 was $984 billion, a seven-year high and a 28% increase over 2018.
Read More
Indy E Cigs opened its doors in 2013, and we currently employ more than 40 Hoosiers in our 10 retail locations along with our wholesale and manufacturing headquarters; we take our corporate responsibility seriously when it comes to preventing youth from getting access to vapor products.
Read More
Arrow McLaren SP officially named Indy Lights champions Pato O'Ward and Oliver Askew as its drivers for 2020 on Wednesday, leaving popular IndyCar veteran James Hinchcliffe without a ride.
Read More
Matthew Sause, 42, returns to Roche Diagnostics Corp., where he worked for 17 years before leaving briefly this year for a senior position at Gilead Sciences.
Read More
The 15-year-old tabloid's editor, publisher and owner hopes that eliminating the time spent producing and delivering the paper will free up resources for producing more content on its website.
Read More
Bub's Cafe owner Matt Frey said the eatery will close Wednesday. He and his wife, Rachel, own the restaurant and the building that houses it.
Read More
The ruling is a setback for consumer activists and customer groups, who say Duke Energy's application to raise electricity rates by an average of 15% is incomplete and confusing.
Read More
"I really lead with my heart. I want our people to feel safe, have the tools they need and know they are appreciated," Karen Alter says.
Read More
Aylin Bartlett leads a $6 billion enterprise within Corteva that has 350 employees in 25 countries.
Read More
Christine Birch has tackled some tough issues at Taft. including championing a plan that eliminated the traditional two-class partnership structure in favor of a single class of ownership.
Read More
Bridget Boyle helped found Roche's Women's Leadership Initiative and is using it as the foundation for a broader diversity and inclusion effort.
Read More
Despite serving as an administrator, "I think I am most proud that … I have been able to continue to advocate from the physician perspective," Dr. Elaine Cox says.
Read More
Dr. Angela Fiege founded Rachael's First Week after her daughter died from a traumatic brain injury the day after arriving at Indiana University in Bloomington for her freshman year.
Read More
Leslie Craig Henderzahs, who joined the firm 27 years ago, recently was inducted as president of the 10,000-member Indiana State Bar Association.
Read More
President Herd Strategies For Denise Herd, the path to business ownership wound its way through the theater, McDonald's and Indiana Black Expo's Summer Celebration. And her journey blazed a trail for other black public relations professionals in Indianapolis. "I have been so blessed throughout my whole career," said Herd, president of consulting firm Herd Strategies. […]
Read More
Toni Hickey has been an intellectual property lawyer at Cummins for seven years and now serves as the company's top lawyer for IP, overseeing a team responsible for developing its comprehensive intellectual property strategy.
Read More
As superintendent of IPS, Aleesia Johnson's charge is to lead the district in pursuit of its vision to be a family of excellent schools where all students have the opportunity to succeed and the power to create their own future.
Read More
NiCole Keith is a professor of kinesiology at IUPUI and researcher and investigator at the Regenstrief Institute that helped develop a fitness program for Indianapolis Public Schools that puts IUPUI kinesiology students to work as coaches, trainers and role models for residents of IPS neighborhoods.
Read More
As dean of the IU Kelley School of Business, Idie Kesner oversees more than 30 degree programs, nearly 12,000 students, about 700 faculty and staff members and a global alumni network of nearly 117,000.
Read More
Three years into her tenure as president and CEO of EmployIndy, Angela Carr Klitzsch has attracted more than $10 million in philanthropic funds for new programs and launched a series of initiatives focused on everything from summer youth employment and job readiness to work-based learning and talent referral networks.
Read More
Kristin Kohn opened Silver in the City in Mass Ave in 2000 and runs a second store in Carmel as well. She's also a founding member of the Mass Ave Merchants Association.
Read More
Amy Levander—the chairwoman of Indianapolis law firm Krieg DeVault's Government Affairs and Public Advocacy Practice Group—is a founding board member and the current executive director of Hoosier Women Forward, a leadership training program for Democrats.
Read More
Kate Maxwell is the chief engineer for product support at Raytheon Indianapolis and the brain child of the company's Intelligence, Information and Services Innovation Center, an organization launched in 2017 that empowers employees to get creative no matter where they are assigned.
Read More
Janet McCabe teaches environmental law at the Indiana University Robert H. McKinney School of Law, oversees the Prepared for Environmental Change Grand Challenge, and is director of the IU Environmental Resilience Institute.
Read More
Hannah Ott and partner George Tikijian sold Tikijian Associates to Cushman & Wakefield in late 2018 and now co-lead its seven-member Indiana Multifamily Team.
Read More
Darcey Palmer-Shultz has led Big Brothers Big Sisters of Central Indiana to become one of the organization's top affiliates in the country.
Read More
Susana Rivera-Mills oversees all seven of the university's academic colleges, plus the Graduate School, University College and Honors College.
Read More
Marisol Sanchez's three-person legal department is responsible for all nine Endress+Hauser affiliates in the United States, plus affiliates in Canada and Mexico.
Read More
Kristin Sherman joined VMS as CFO in 2016, and a year later added oversight of all the firm's support functions—everything from legal and IT to compliance and HR.
Read More
Heather Wilson is responsible for ensuring that the law firm continues to thrive and grows its market share in Indianapolis.
Read More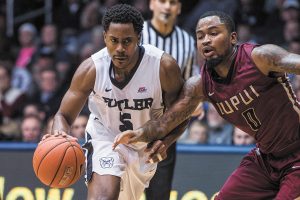 Intriguing match-ups, long stretches at home and away, and a team that plays a third of all its games before Dec. 1.
Read More