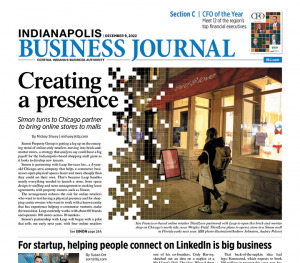 DEC. 9-15, 2022
Simon Property Group is getting a leg up on the emerging trend of online-only retailers moving into brick-and-mortar stores, a strategy that analysts say could have a big payoff for the Indianapolis-based shopping mall giant as it looks to develop new tenants. Mickey Shuey has more on its partnership with Chicago-based Leap Services. Also in this week's issue, Peter Blanchard has a preview of the 2023 Indiana Legislature and its four-month, budget-writing session. And Dave Lindquist connects with media mogul Jeff Smulyan about his new book, a career retrospective titled "Never Ride a Roller Coaster Upside Down."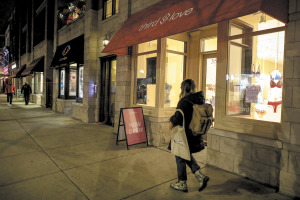 The Indianapolis-based shopping mall giant is getting a leg up on the emerging trend of online-only retailers moving into brick-and-mortar stores, a strategy analysts say could net the company a big payoff as it looks to develop new tenants.
Read More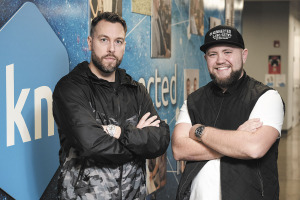 Kennected, which expects to book $10 million in revenue this year, has about 140 employees in the United States and India. As of mid-November, the company was bringing in just over $600,000 in monthly revenue, a figure that's growing 10% each month.
Read More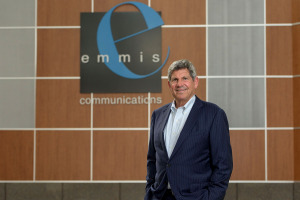 A new book is capping a year of tremendous transition for the Emmis Corp. founder whose roster of former employees includes David Letterman, Mike Pence, Isaac Hayes and Ken Griffey Jr.
Read More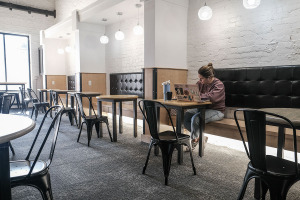 The county has some of the most affluent, highly connected cities in Indiana. It also has rural areas that lack widespread access to reliable high-speed internet.
Read More
Johnny Bright was considered a leading candidate to become the first Black player to win the Heisman Trophy in 1951, when his season at Drake University was derailed after an Oklahoma A&M player broke Bright's jaw in an on-field attack perceived as being racially motivated.
Read More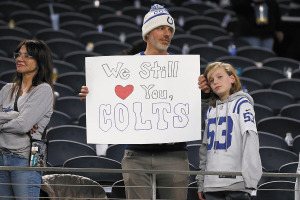 In the time of year that is supposed to bring joy and glad tidings, this season brings Colts fans neither. It's like this franchise is stuck in the chimney, with a fire roaring under its snow boots.
Read More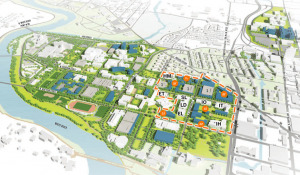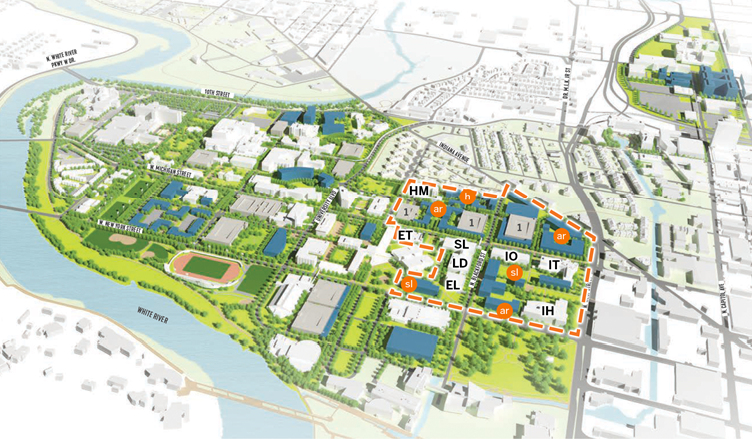 The IU SciTech corridor will begin at the corner of Michigan and West streets, one of the main entrances to the downtown campus and house both IU and Purdue programs, President Pamela Whitten told the university's board Friday.
Read More
A pre-election revamp of the mayor's cabinet includes the appointment of the first diversity officer, a new senior adviser and new deputy mayors.
Read More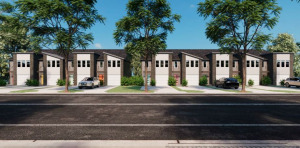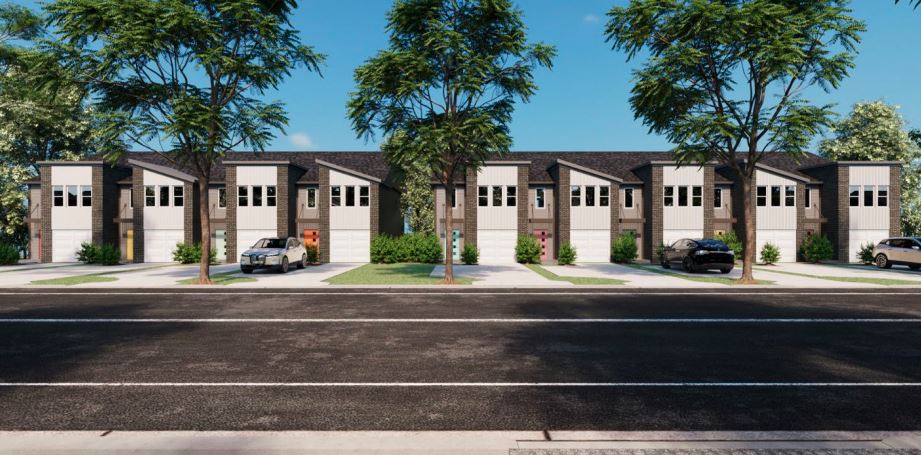 The development, called Onyx Point, would consist of 12 two-story buildings on 5.7 acres at 2620 N. Lebanon St.
Read More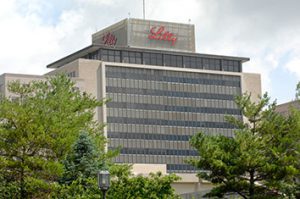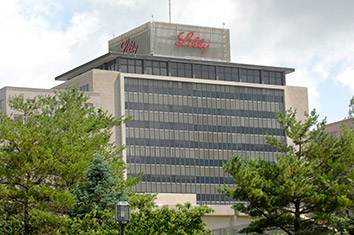 The Indianapolis-based drugmaker released a report card Thursday that outlined its progress "to support effective solutions" to racial inequity and social injustice. In addition to donations, the company has committed tens of millions of dollars to other diversity efforts.
Read More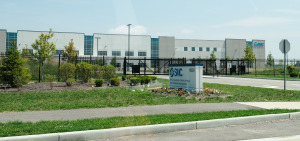 SMC Corp. of America plans to expand its total workforce in Noblesville to 1,157 by 2032.
Read More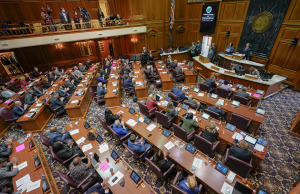 Also looking for state support are initiatives related to workforce training, road funding, energy standards and affordable housing.
Read More
Indiana's high smoking rate and poor health rankings demand a solution that lawmakers have avoided for far too long.
Read More
Indiana's ability to remain economically competitive for job-creating investments in the future faces significant challenges, one of the biggest being the health of Hoosiers.
Read More
The seed of $280 billion has already triggered an industry investment nearing twice that, at $477 billion.
Read More
We would like to extend our heartfelt thanks to all who helped the National FFA team take good care of the 69,000 students entrusted to us during our annual convention.
Read More
As a young businesswoman, I put an enormous amount of pressure on myself to be perfect. Perfectly prepared. Perfectly dressed. Perfectly presented. Perfectly on time.
Read More
Income, expenses and benefits are the issues that create the headaches. And they have this supernatural way of amalgamating themselves into this seemingly insurmountable problem, which oddly can be solved only if you're able to separate them back into individual challenges.
Read More
We want a military strong enough to defend us, but we also don't want it to trample on our personal freedom.
Read More
Lindsay Hyer has been named executive director of the Indiana Professional Licensing Agency, succeeding Deborah Frye, who is retiring after seven years in the role.
Read More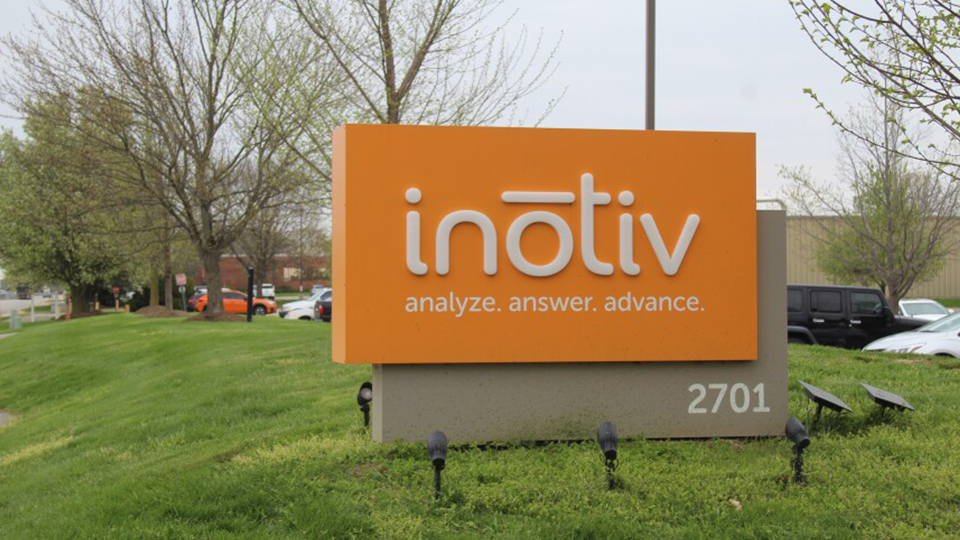 The pharmaceutical testing company said it plans to close two isolator facilities in Indianapolis and consolidate them with existing facilities in the United States.
Read More
Tamara Winfrey-Harris has been with the CICF for more than six years, most recently as vice president of people, culture & brand.
Read More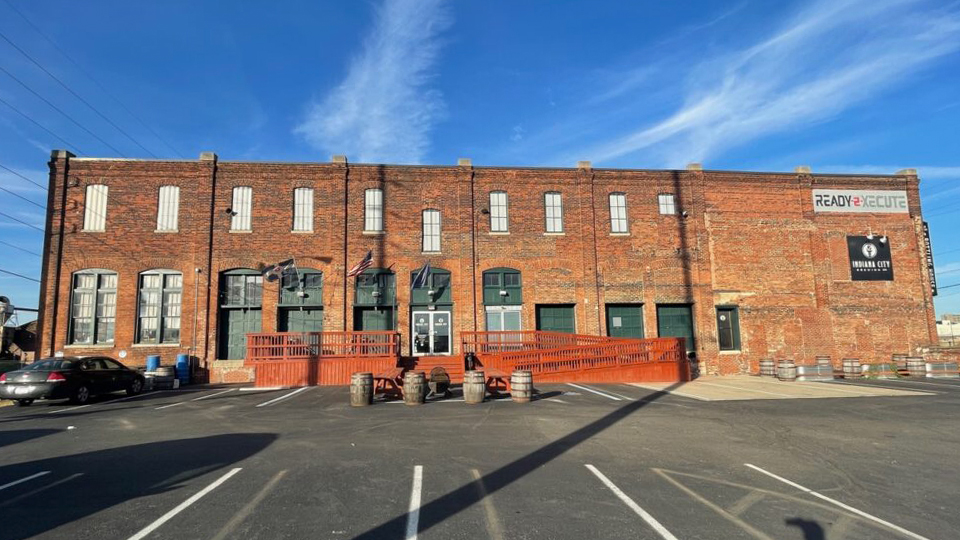 Indiana City Brewing Co. owners say their on-site taproom on the city's near-east side will remain open and fully operational throughout the sale process.
Read More
The problem is, this nanny-state, tax-hiking mentality is its own unhealthy addiction, and it won't stop with cigarettes.
Read More
Failure to invest in public health—and to raise taxes on all tobacco products—is not without cost.
Read More
It is well known from multiple authoritative sources that increasing the cigarette tax is probably the most effective single strategy for reducing smoking rates.
Read More
Indiana's per capita spending on public health in 2019 was $55; the national average was $91.
Read More
Science and math proficiency are critical to a student's future success in the workforce.
Read More
It is clear the public wants news coverage. And through new business models, reporters can supply it.
Read More
Far too often, discussions about philanthropy exclude religion or seek to think of it as tangential.
Read More
The past few years have offered insights into how donors and funders can deepen their commitments.
Read More
A whole lot of things had to go wrong for us to need the Respect for Marriage Act in the first place, but it turned out that dignity and respect are not partisan values.
Read More
He is a consistent conservative voice and vote against the 'Washington-knows-best' government creep that so troubles most Republican primary voters.
Read More
The midterm elections showed Trump to be 'The Biggest Loser,' which gives cover for many Republicans to finally renounce and abandon him.
Read More
No amount of lies about the election process is going to change the vote totals.
Read More
It has apparently been determined that our public schools and universities have lost their 'value proposition.'
Read More
Eliminate straight-ticket voting and implement ranked-choice voting.
Read More
My value to Daniel is not that I have assembled talented Black professionals on my team—it's merely that I have an MBE certification.
Read More
We need to ask constituents what they need before we ask them for their vote or donation, knowing those conversations can be very difficult.
Read More
There are few phrases I hear in the business world that are more vanilla.
Read More
Studies … show trends that paint a picture of a strong connection between social media usage and a teenage public health crisis.
Read More
Ann Dryer's responsibilities at Commonwealth Engineers—a firm specializing in water resources—include overseeing the accounting department, managing financial performance, providing quality financial reporting for operational planning, working directly with project managers and clients, overseeing human resources, and assisting in internal controls as a member of the operating committee.
Read More
Josh Davidhizar is responsible for oversight of accounting and financial processes, policies and procedures at Indiana Oxygen Co.
Read More
Jenny Quinnette helps plan and execute the strategy of Vibenomics by providing recommendations based on insights gleaned through numbers.
Read More
Rodney Graham is responsible for the accounting, treasury and information systems teams for Co-Alliance—a nearly 100-year-old diversified agribusiness owned and controlled by about 12,400 members who are local farmers that produce or market farm products—and its subsidiaries and joint ventures.
Read More
Tony Firmani is CFO of MPI Corp. and its operating subsidiaries, which currently includes Small Parts Inc. and HTI.
Read More
As CFO of GEMCO Constructors—a mechanical, electrical, plumbing, building automation systems and service contractor—Andrew Toth oversees the finance, accounting, human resources and IT functions of the business, which has been named to IBJ's Fast 25 list five years in a row.
Read More
Barry Gardner oversees five departments for the Metropolitan School District of Wayne Township, including finance, facilities, grounds and custodial services, child nutrition and construction.
Read More
Christopher Ruhl leads all financial management, business services, treasury, human resource, information technology, sponsored research programs and internal audit functions at Purdue University, which has a $2.5 billion annual operating budget across all its campuses and Purdue Global.
Read More
As CFO, Mark Kern works with Firefly Children and Family Alliance's CEO, management team and board to provide strategic and accurate financial management and recommendations to the agency.
Read More
As CFO of CICOA Aging & In-Home Solutions—a not-for-profit dedicated to ensuring that seniors and people with disabilities live the best life possible—Michael Johnson provides strategic direction to assess new business opportunities and financial insight and collaborates not only with colleagues at CICOA but also other community organizations.
Read More