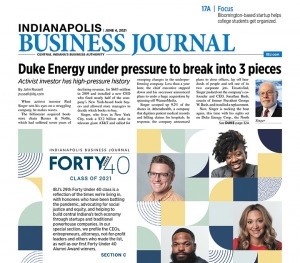 JUNE 4-10, 2021
The big draw this week is IBJ's Forty Under Forty Class of 2021, featuring a wide variety of young leaders who reflect changing business trends, priorities and definitions of success. The traditional constituencies of C-suiters still get their due, but this class demonstrates the increased importance of data, diversity, communications and social responsibility. Also in this week's issue, John Russell reports that a powerful activist investor has trained his sights on the parent company of Duke Energy Indiana, proposing that the parent utility be broken into three separate firms. And Mickey Shuey explains how the Capital Improvement Board, which owns several of the city's largest sports venues, is working to rebalance its budget and rebuild its reserves after a year in which it fell $40 million into the red.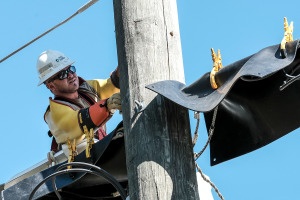 Activist investor Paul Singer says the huge utility has been underperforming its peers and argues that Duke's customers would be better served by locally managed utilities.
Read More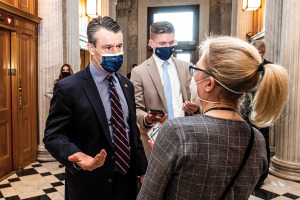 Government and business leaders are preparing to bid to host one of the regional tech hubs that would be created by the U.S. Innovation and Competition Act, even though the bill has yet to pass.
Read More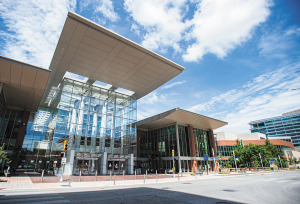 The Capital Improvement Board of Marion County is working to balance its budget and rebuild its reserves after a year in which it fell $40 million into the red.
Read More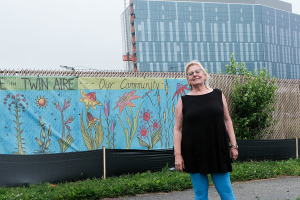 Seven months before the bulk of the campus opens southeast of downtown, neighborhood residents are waiting to see if the promise of accompanying redevelopment comes to pass.
Read More
Scott Jarred didn't have big expectations for his first book, "FutureHack! How To Reach Your Full Financial Potential," which he self-published this year. But it ended up on the top of The Wall Street Journal's e-book non-fiction best-seller list.
Read More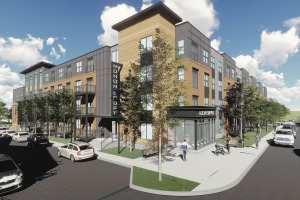 Plans for Monon Court call for razing an apartment development that has been been on the site for more than 70 years.
Read More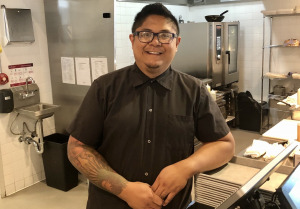 Chef Carlos Salazar said he expects downtown Indianapolis customers will be more open to the global street food he serves at Lil Dumplings.
Read More
One of the most notable multi-generational stories of Indianapolis as home is that of the Vonneguts, a 150-plus-year history that includes the contributions of entrepreneurs, architects, community leaders and servants, scientists, and writers, whose works live on in the city today.
Read More
Bilingual volunteers will staff the nine-language hotline starting Saturday, as health disparities by race and ethnicity linger in local case counts and inoculation rates.
Read More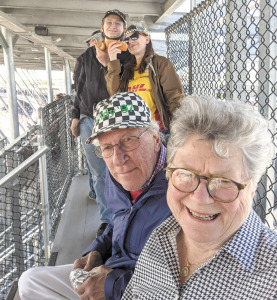 Dr. Richard Bennett's perfect-attendance mark for the race is a wonder to behold, a feat of devotion likely unmatched by any fan of any sport in any place.
Read More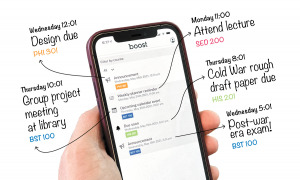 Boost is a phone app that sweeps up information about students' class assignments and uses it to nag them (in a friendly way) to get stuff done on time.
Read More
While businesses think they can be choosy with new hires, job seekers can and will be choosy, too. Job seekers have a lot of choices right now.
Read More
IU announced Tuesday that students and employees would be able to attest to their vaccination without having to provide documentation of having received the shots, as was required under the previous policy announced May 21.
Read More
IU's incoming president, Pamela Whitten, and Purdue President Mitch Daniels should start talking now about how to give IUPUI the opportunity to move into the next tier of excellence—and that probably means a name change.
Read More
Let's examine some water cooler chatter about the 2024 governor's race (even though it's early).
Read More
Our ambitious attorney general has cast his lot with those Republicans, who—it must be admitted—are representative of what the Grand Old Party has become.
Read More
We are all aware of the significant teacher shortage plaguing our state. It is incumbent upon our universities, both public and private, to aggressively recruit highly qualified and talented individuals to lead Hoosier classrooms.
Read More
As a result, businesses large and small are calling their workers to return to the office this summer and fall, perhaps with the anticipatory sense that, since "we built it, they will come."
Read More
It's hard enough to make money in things you think you understand, and it's critically important to know what you don't know.
Read More
To the extent Hamas spends some of its resources on providing humanitarian aid, an expansion of the United States' humanitarian aid enables Hamas to divert some of its resources to expand militarization.
Read More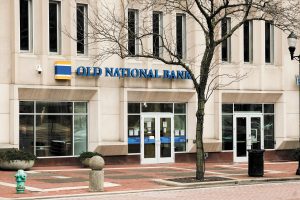 The deal is the largest to date by far for Old National, which has grown dramatically over the past decade through a series of acquisitions.
Read More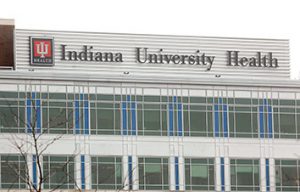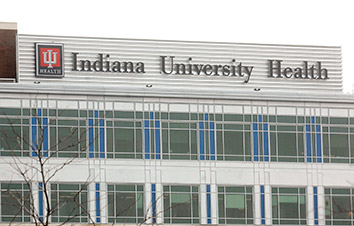 In a change of policy, Indiana University Health said Tuesday it will require doctors, nurses and other team members to be fully vaccinated against COVID-19 by Sept. 1.
Read More
Indianapolis-based Indiana Members Credit Union will add 2,231 members, two offices and $17 million in assets by adding Members Choice Federal Credit Union through a merger.
Read More
Blair Milo, who in 2017 was named the state's first secretary of career connections and talent, will step down June 7, Indiana Gov. Eric Holcomb announced Friday.
Read More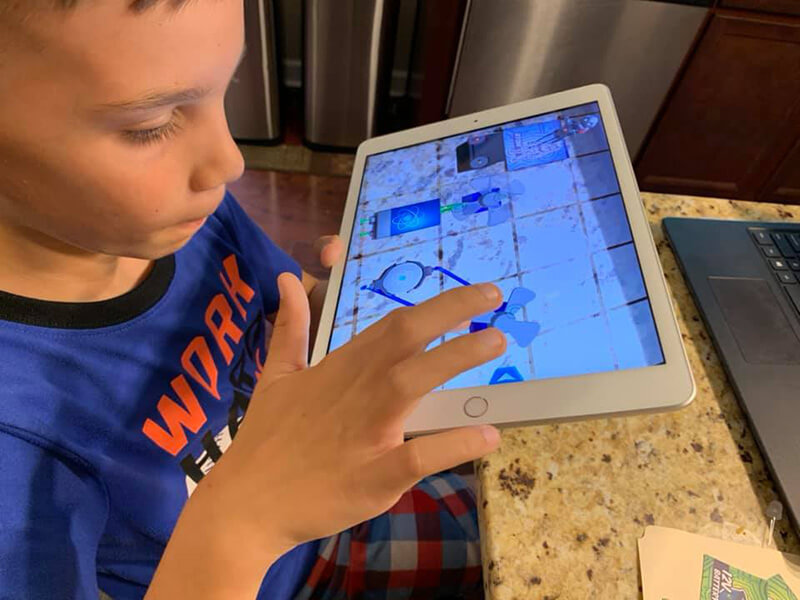 Explore Interactive CEO Amanda Thompson said the partnership should accelerate the adoption of MindLabs products worldwide, "enabling us to nurture young learners everywhere."
Read More
Duchess Adjei leads the design, planning and execution for all global communication efforts as head of global communication
at Beckman Coulter Life Sciences, which develops, manufactures and sells products that simplify, automate and innovate complex biomedical testing.
Read More
Tanorria Askew gives herself five job titles—creative entrepreneur, author, personal chef, social justice activist, podcast host—but they all boil down to this: "I nourish people's bodies with food and their souls with justice."
Read More
Christian Beck is executive partner of growth strategy and design at Innovatemap, which he co-founded, and helped develop Innovatemap Ventures, which invests a percentage of the company's profits in startups.
Read More
Jason Becker is the CEO RICS Software Inc. and Dyknow LLC and has led a turnaround of both companies.
Read More
Dr. Cole Beeler, medical director of infection prevention at Indiana University, is responsible for reducing and addressing hospital-acquired infections as well as preventing health care workers and patients from getting COVID-19 while they are in the hospital. As director of symptomatic testing at Indiana University, his role is to work with health care systems, students, faculty and staff to coordinate care of individuals who contract COVID.
Read More
Erik Braden is managing partner of Braden Business Systems, a company his father founded in 1989. He returned home to the business after working on Wall Street in investment banking and for private-equity groups in Los Angeles; Zurich, Switzerland; and New York City.  
Read More
Rosie Bryant, lead organizer for Faith Indiana, works to reform the city's criminal justice system to reduce violent crime and build community capital and resilience. She pushed the city to pilot, expand and fund the Group Violence Intervention program.
Read More
Nick Carter is CEO of Market Wagon, which has created online farmers markets in 26 cities in 14 states. Carter filed his first Schedule-K for farm income at the age of 9. He owned dairy cows and rented land from his father for pasture and feed production.
Read More
Ben Conner is CEO of his family's Conner Insurance company and is responsible for its people, culture and numbers-building. He also leads the company's employee benefits practice and consults with employers directly on their employee benefits program. He's a former board member and owner of Jay's Moving Co., an IBJ Fast 25 company.
Read More
Tamara Cypress leads marketing, communications and corporate social responsibility projects for Black Onyx Management, which helps organizations empower Black and marginalized communities.
Read More
Jessica Gendron, president and CEO of the Center for Leadership Excellence, is on a mission to get companies to create a great workplace culture for women, not just a fun or "great" place to work.
Read More
Johnathan Goo, president and CEO of MAVPAK, said he received a sign from God in 2015 to start his industrial-packaging distributor.
Read More
Ryan Goodwin is a flight instructor at Lift Academy, a flight school owned by Republic Airways that serves as a pipeline for Republic's future pilots.
Read More
In his role as president of his family's company, the Hageman Group, Shane Hageman is responsible for leading the business that invests in commercial real estate, agriculture and more.
Read More
Peter Hanscom is vice president of Marketing & Digital Engagement at United Way of Central Indiana.
Read More
Angka Hinshaw is deputy public defender and immigration supervisor at the Marion County Public Defender Agency.
Read More
Katie Jenner is Indiana Secretary of Education.
Read More
Suranga Kasthurirathne is a research scientist at the Center for Biomedical Informatics at Regenstrief Institute and assistant professor
in the department of pediatrics at the Indiana University School of Medicine.
Read More
Justin Keller is vice president of marketing at Terminus.
Read More
Robert L. Marshall Jr. is founder and executive director of Vanguard Collegiate, which he said he opened as payback to the community for the strong education he received.
Read More
Kate Maxwell is the chief technology officer for worldwide defense and intelligence at Microsoft, where she helps national-security customers modernize their processes, tools and operations through technology.
Read More
Ann O'Connor McCready is a partner at Taft Stettinius & Hollister where she litigates business contract disputes, complex environmental and toxic tort cases, intellectual property disputes, product liability claims and securities issues.
Read More
Sarah Myer is senior director of marketing and communications at the Indiana Sports Corp. and helped manage this spring's NCAA Men's Basketball Tournament in Indianapolis.
Read More
Kristen Nunery is founder and CEO of myCOI, which manages certificates of insurance, protecting construction, real estate and other businesses against the risk of underinsured claims, costly litigation and failed audits.
Read More
San Pathak, COO of Element Three and co-founder and CFO of AfterSchool HQ, describes himself as the kind of person who has the ability to figure just about anything out.
Read More
As associate director of student recruitment for the IU McKinney School of Law, Lauren Peña is responsible for recruiting and advising prospective law students as well as developing strategic communication plans.
Read More
As vice president of stakeholder engagement at TechPoint, Lauren Petersen connecting with 150-plus organizations, securing fundraising commitments and managing the three-person relationship management team.
Read More
Colleen Powers, an attorney shareholder and board member for Hall Render Killian Heath & Lyman PC, works with hospitals and other health care service providers on pressing issues facing our health care system.
Read More
Jesse Rice, founder and owner of Black Circle Brewing Co., has transcended his business's identity as a brewery and morphed it into a place where all are welcome.
Read More
John Roach is president of Resultant (formerly KSM Consulting), which helps its clients overcome complex challenges using data analytics, technology and digital transformation.
Read More
Adrian Russell is director of diversity, equity & inclusion/procurement at Shiel Sexton Co.
Read More
Taylor Schaffer is chief of staff and chief deputy mayor for Mayor Joe Hogsett and the City of Indianapolis.
Read More
Andy Seibert is the executive director of KIPP Indy Public Schools.
Read More
Nick Smarrelli is CEO of GadellNet Consulting Services.
Read More
Shannon Stahley, senior manager of corporate affairs at Citizens Energy Group, represents the company at the local, state and federal levels, including the Governor's Office and the General Assembly. She led the remediation and redevelopment of Citizens Energy Group's former Indianapolis coke plant site, now home to the city's Community Justice Center.
Read More
Chris Stowers, senior director of biotechnology at DSM, leads a team of scientists and engineers responsible for developing sustainable processes for the production of nutritional products such as vitamins, carotenoids and lipids. Previously he led a team at Corteva Agriscience. 
Read More
Lindsay Tjepkema, CEO of content marketing platform Casted, has generated almost $10 million in capital for the company, tripled the size of its team (to 30), increased revenue eightfold (company doesn't disclose revenue) and quadrupled its customer base to include Salesforce, ZoomInfo and PayPal.
Read More
Jennifer Triplett, assistant general counsel for Toyota Industries North America (also called TINA), is responsible for providing legal guidance and compliance support to the North American headquarters for Toyota Industries Corp. and its North American subsidiaries.
Read More
Dr. Lindsay Weaver started as Indiana's chief medical officer on Feb. 3, 2020—a month before the state had its first case of COVID-19. She has been fully engaged with the Indiana Department of Health's COVID-19 response ever since. In addition, she continues to work several shifts a month in the emergency department at Methodist Hospital.
Read More
Jonathon Wright, general counsel and corporate secretary for Hurco Cos. Inc., is responsible for managing all aspects of the company's legal function on a global basis, including corporate governance, mergers and acquisitions, commercial transactions, employment and labor law, litigation and more.
Read More