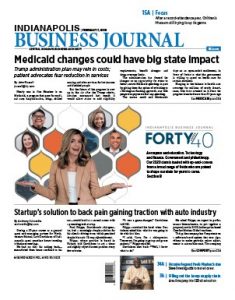 FEB. 7-13, 2020
The can't miss package this week is IBJ's 28th annual edition of Forty under 40, featuring the young leaders making names for themselves in central Indiana. From Stacy Atkinson, chancellor of the Richmond campus of Ivy Tech Community College, to Muhammad Yasin, executive vice president of marketing for software firm Perq, the Class of 2020 is especially strong and diverse. Also in this week's paper, Samm Quinn discusses how the experience of running for Indianapolis mayor has informed the legislative priorities of state Sen. Jim Merritt. He's filed bills in the current legislative session concerning food deserts and landlord-tenant relationship, and in next year's budget-writing session he plans to tackle roads and crime. And John Russell explores the future of Medicaid in Indiana now that the Trump administration has announced plans to allow states to add eligibility requirements, benefit changes and drug-coverage limits.
The Trump administration has announced it would allow states to add eligibility requirements, benefit changes and drug-coverage limits, which could limit what the government will spend for certain enrollees.
Read More
Comfort Motion Global has five patents on a software-based system that uses algorithms to make periodic micro adjustments to automobile seats.
Read More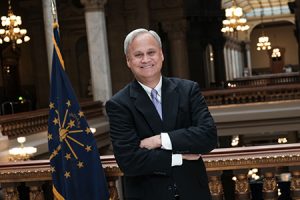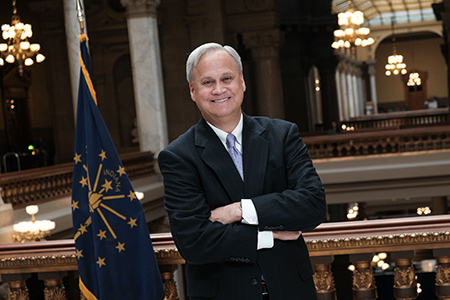 Sen. Jim Merritt says his run last year for Indianapolis mayor has made him a better senator—one who's more in touch with his constituents and who has seen the city's poverty and crime problems firsthand.
Read More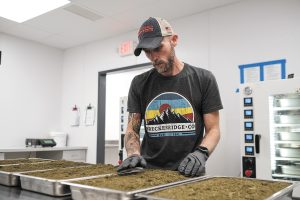 Hemp-processing companies are investing millions of dollars into refineries across Hamilton County to close a gap in the state's CBD supply chain.
Read More
A Carmel-based company is suing the Jelly Belly Candy Co. because it says the jelly bean maker's packaging is too similar to its own and could cause customer confusion.
Read More
Nick Elam developed an idea meant to make basketball more exciting by discouraging late-game fouls and ensuring every game ends on a successful shot.
Read More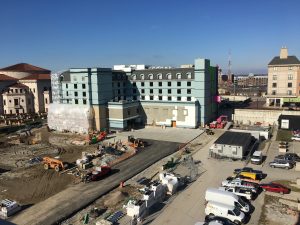 A double-barrel audit may be the next step in scrutinizing why Carmel's boutique hotel project, The Hotel Carmichael, is about $20 million over its original budget.
Read More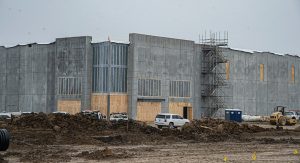 The Seattle-based e-commerce company plans to use a 660,384-square-foot building that's already under construction for an an "inbound cross dock" center.
Read More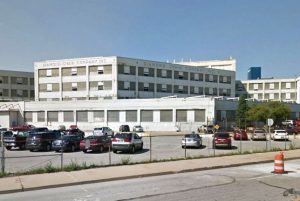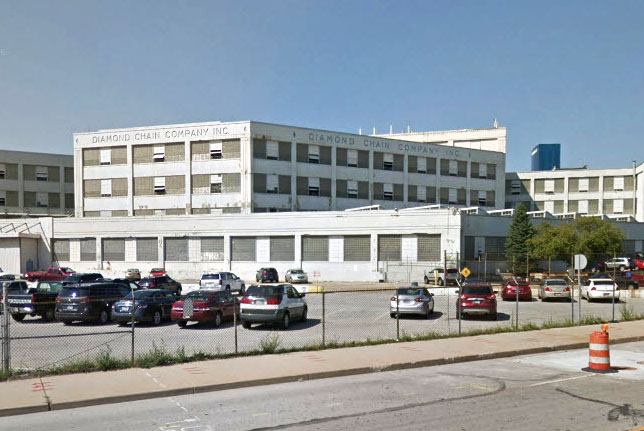 New owner Timken Co. plans to consolidate the local plant's operations in Illinois. Diamond Chain was founded in 1890 as the Indianapolis Chain & Stamping Co., originally to produce chains for the nation's fast-growing bicycle industry.
Read More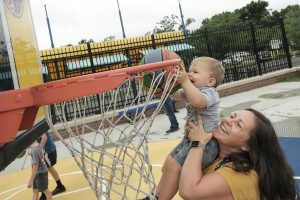 Three temporary exhibits will open this year, and a handful of existing spaces will receive substantial upgrades—including the popular Dinosphere space.
Read More
The city's tourism agency brought in nearly 8 million hotel room nights in 2019 in central Indiana—an all-time record. Just more than 2 million hotel room nights were booked downtown last year. Overall, 5.32 million rooms were booked in Marion County and 7.94 million throughout the metropolitan area. Visit Indy shared the figures as part of its annual State […]
Read More
One point everyone can agree on is that, over the past two years, construction costs have skyrocketed, thanks to higher prices for materials and a severe labor shortage. But other developers who spoke to IBJ say those setbacks alone would not explain a nearly 50% increase in the project's cost.
Read More
More needs to be done to make the case for free markets and the American Dream.
Read More
If you have never heard of incels, you have lots of company. According to report out of Texas, although they are not a new movement, involuntary celibates are emerging as a domestic terrorism threat "as current adherents demonstrate marked acts or threats of violence in furtherance of their social grievance."
Read More
We are at the point now where some schools are failing to graduate students, leaving many worse off than they would have been if they hadn't attended college at all. This is a major problem for the employer community, as we are left searching far and wide for candidates to fill jobs in industries of all kinds.
Read More
Sam Stovall, chief investment strategist at CFRA Research, found returns for the S&P 500 were positive (some strongly so) at 30, 60 and 90 days after the first U.S. case for the prior five viral outbreaks.
Read More
Each year, one item seems to arise unexpectedly—innocently or intentionally—that seems to consume, as Statehouse denizens observe, all the time and calories.
Read More
High turnover can stifle the culture, making it more likely that remaining employees will shy away from creative and risk-taking ideas and solutions. Instead, those employees may opt to play it safe, so as not to join the ranks of those no longer employed there.
Read More
Senate Bill 449, currently up for second reading in the Indiana Senate chamber, would roll back much of the progress already made in Indiana's juvenile justice system over the last decade.
Read More
The deal is the latest evidence of Simon's willingness to step into an ownership role to rescue mall chains that overexpanded and made other blunders as the internet roiled the fashion-retailing industry.
Read More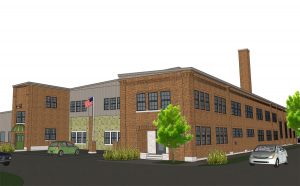 Paramount Schools of Excellence bought the 55,000-square-foot building in the Cottage Home neighborhood for about $3.2 million.
Read More
The bill's opponents call the legislation a "coal-bailout bill," designed to prop up the state's struggling coal industry just as utilities are preparing to shut down aging coal plants.
Read More
CenterPoint Energy Inc. has agreed to sell two subsidiaries, including Indianapolis-based Miller Pipeline, for $850 million to infrastructure services provider PowerTeam Services LLC, the companies announced Monday. Miller Pipeline employs more than 3,500 people.
Read More
Stacy Atkinson in October became the youngest Latina chancellor to lead an Ivy Tech Community College campus in the history of the higher education network, which is the largest community college system in the country.
Read More
Fernanda Beraldi, senior director of ethics and compliance at Cummins Inc., works with a global team to educate 62,000 employees about the risks of bribery, conflicts of interest and other problems.
Read More
Candice Bineyard has ascending the ranks at Rolls-Royce to a new position as director of defense programs. It's a promotion she received in January, after serving as vice president of one of the manufacturing company's leading programs, its JSF LiftSystem technology that powers fighter jets and other aerospace gear in the armed services.
Read More
Stephanie Bothun helped launch the not-for-profit Ascend Indiana, the talent and workforce development initiative of the Central Indiana Corporate Partnership, with a set of values, a bundle of policy papers and her former boss, Jason Kloth, then of Teach for America.
Read More
Conner Burt is co-founder and president of Lessonly, a rapidly expanding training software company serving almost 1,000 customers.
Read More
Responsible for keeping Indiana's elections fair and secure, Deputy Secretary of State Brandon Clifton and his team have embraced sweeping reforms to voting procedures since 2016.
Read More
Once an aspiring journalist and writer, Bindley Capital Partners Vice President Jennifer Detmer has discovered how credit research and finance can also be a form of storytelling.
Read More
For Meggie Dials, empathy is the superpower that has propelled her through her time at Salesforce and through the career shifts that led her there.
Read More
In 2017, Joshua Driver co-founded Selfless.ly to provide businesses with software to better navigate community service commitments.
Read More
Michael Dury was promoted Jan. 23 to CEO of Merchants Capital, where he leads one of the top housing-loan originators nationwide.
Read More
Since joining HWC Engineering in 2009, Jamie Ford-Bowers has created an entire planning department from scratch, one that now has 28 employees and more than $4.5 million in yearly revenue.
Read More
Christina Fugate is Ice Miller's expert on franchise law and business and chairwoman of the firm's franchise and distribution team, and she's also founder of the Indiana Franchise Association.
Read More
Dr. Brian Gray has been a key part of Riley Hospital for Children's plan to build a $124 million Maternal Fetal Center, expected to open in 2021, that will centralize maternity and newborn care for Indiana University Health's three downtown hospitals.
Read More
Marcus Hall's varied career wound through Pacers Sports & Entertainment, ExactTarget and even his own pocket-square subscription startup before arriving at an Indianapolis-based California Closets franchise.
Read More
Andrew Hedegard has risen quickly at Chase while also helping young people overcome challenges.
Read More
Christopher Henry leads the seventh-largest Presbyterian congregation in the United States, with 3,500 members, 125 staff members and budget of $4.7 million.
Read More
Jacob Houk serves as leader of Indiana's largest independent property restoration company—one he helped turn around by focusing on its employees.
Read More
Aaron Hurt leads a group of 30 in planning performances and other engagements at Butler's five event venues.
Read More
Chris Jensen, a former assistant to Lt. Gov. Becky Skillman, served on the Noblesville city council before becoming the city's mayor this year.
Read More
Kai Johnson was promoted on Feb. 1 to her new position as a manager of corporate strategy. Until then, Johnson was manager of community partnerships, where she oversaw development programs in Salesforce's central cities.
Read More
Vincent Kovatch oversees the reconditioning processes for the millions of vehicles that Carmel-based KAR Global resells. That follows positions overseeing mergers and acquisitions, data management and predictive analysis for the Carmel-based auto resell giant.
Read More
Barnes & Thornburg partner Jessica Lindemann credits her father (an attorney, who was "committed to his partners, his community and his family") and her mother (a social worker, who "instilled the value of community service and social connection") with influencing her choice of career and specialties.
Read More
Breanca Merritt is the founding director of the Center for Research on Inclusion and Social Policy at IUPUI, which researches and reveals the trends that limit progress in Indianapolis.
Read More
Blair Milo was serving as the LaPorte mayor when Gov. Eric Holcomb asked her to join his administration as secretary of career connections and talent, overseeing the state's Next Level Jobs initiative to connect Hoosiers with high-paying, high-demand jobs.
Read More
Mark Nottingham's passion is people and neighborhoods, not necessarily houses—and that's the secret behind the success of Plat Collective, the residential real estate brokerage he founded in 2011 as Nottingham Realty Group.
Read More
Pacers guard Victor Oladipo is a two-time NBA All-Star and was the league's most-improved player in 2018. His NBA career followed a stellar stint at Indiana University, where he was a first-team All-American in 2013, the year the Hoosiers went to the Sweet 16.
Read More
Hannah Ott worked her way up in real estate, eventually becoming a partner at Indianapolis-based Tikijian & Associates, which was acquired by Cushman & Wakefield.
Read More
Sonja Overhiser and her husband founded the food blog A Couple Cooks, which boasts more than 1,000 recipes on its site.
Read More
When Amar Patel taught in Chicago, he observed that "every student … wanted to learn, and every student wanted a sense of purpose in their lives."
Read More
Doneisha Posey joined Ivy Tech late last year after serving in a variety of roles at the Indiana Civil Rights Commission.
Read More
Brad Rateike is back to building his communications firm after spending two years in Washington, D.C., serving as director of cabinet communications for the White House.
Read More
Beau Reichart is honoring the history and traditions of Red Gold at the same time he's embracing greener processes and modern products.
Read More
Ian Rupert resigned from a leadership position with JPMorgan Chase to back a venture capital fund investing in companies primarily in the alcohol and hospitality industries.
Read More
Carlos Salazar is using his new outpost at The Yard at Fishers District to test ideas. He eventually hopes to open a full-service restaurant in Fishers.
Read More
At Pivot Marketing, Jenn Schimmelpfennig and her team serve some of the most recognized organizations in the city—including Indianapolis Public Schools, Exodus Refugee and the Arts Council of Indianapolis.
Read More
Dr. Emily Scott is a vocal advocate in the public sphere for reforms to better serve and respect pregnant mothers affected by substance abuse.
Read More
As director of regulatory and regional transmission organization policy at IPL, Justin Sufan is in the middle of big changes at his company and in the energy sector worldwide.
Read More
Yecenia Tostado and her then-colleagues at EmployIndy crafted Indy Achieves, which is Mayor Joe Hogsett's program to help Marion County youth afford post-secondary education.
Read More
Matt Waggoner, managing director of tenant representation for JLL, changed his perspective on his career after a friend challenged him to consider the purpose of his work.
Read More
Muhammad Yasin co-founded a group that focuses on agile marketing and co-hosts a podcast for "process-minded marketers."
Read More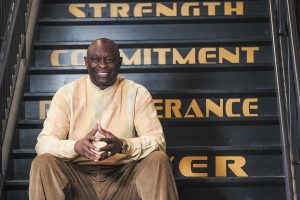 The small school has gotten big results by hiring one of the giant names in Indiana sports.
Read More